I thought since I've been talking about my soon-to-be pantry in the last couple of posts, I'd share the process of how it came about and some of the photos I bookmarked for inspiration.
In our pre-tornado house my pantry was a build in, very deep, floor to almost ceiling cabinet. I hated it. Food would get lost or forgotten. I eventually cleaned it out and moved all my dry goods into the laundry room where we had purchased placed a couple of free-standing cabinets. I then used the deep cabinet for bake ware and other kitchen items.
After the tornado, when hubs started drawing out what we wanted for the rebuilt house, he knew I longed for a big pantry so he was able to make it work. There was a wall that was shared by the laundry room and dining room that he took out and added the pantry. The pantry actually goes into where our dining room was/is so we bumped out the dining room so we wouldn't lose any space. In fact, I think my dining room is a little bit bigger now.
When I saw the size of the pantry (It's 5' deep by 8' wide) I started thinking of all kinds of ways to utilize it. I've always hated having things out on my kitchen counters (especially appliances) so I decided to put a counter top and outlets in there so I could store/use things like the toaster, toaster oven, mixer and hubby's coffee maker. Then, of course, I needed shelving. There will be base cabinets with doors under the counter top and above will be all open shelving.
Here are some photos that I have used for inspiration.
This next pantry is probably my most favorite.
Last week I mentioned how we were trying to decide what to do about a door since our pocket door idea wasn't going to work. Well, we decided to go with a cased opening that would be big enough to allow for a door or double doors if we ever decided to close it off. If we ever do that, I'm really liking these double doors.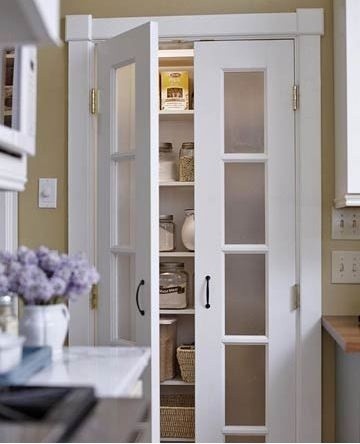 This pantry is going to be much larger than any one I've had and I can't wait to start stocking it!
heather