This week for Toddler Tuesday, I thought I'd talk about some of the girls' favorite things.
We bought one of these to see if the girls would like it. It took about a week before they were fighting over it so we ended up buying a second one. I don't regret this decision one bit. I love that most of the apps are educational and I can sit with each one of them and walk them through some of the apps. Tillie seems to be catching on a little bit faster than Tensley so I can sit and work with her on certain apps while Tillie plays on it by herself. If you have a 2-5 year old, I highly recommend this tablet.
Oh, and the best part about this tablet? I no longer have to give up my devices for them to play/learn.
*I was not compensated for this. These are my own opinions.
Reading / Favorite Books
The girls have really started taking an interest in us reading books to them. They are getting better at sitting still long enough for us to read some of the longer books…as long as they have pictures.
Their favorite books right now are:
Ladybug Girl – I'd love to get the entire series of these books.
Minnie Red Riding Hood – of course anything Minnie is a fave in our house right now.
My First ABC's – each page has pictures of things that start with a letter of the alphabet. The girls can name most of the pictures and point to the correct picture when you ask where it is.
Most of our books are board books that we received as gifts or that I purchased from the dollar section at Target. I need to start adding more story books to their collection. Got any recommendations?
Activities
Bubbles are kind of a big deal in our household right now. I purchased the Gymboree bubble set and oh my goodness they are the best bubbles ever! Because it's either been raining or too hot to go outside, I've been blowing bubbles in the living room of our apartment. These bubbles are so good that I still find them on things the next day! I really like the bubble blower that comes with this set too. It blows small bubbles and lots of them.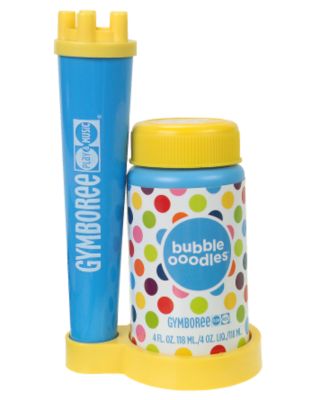 Coloring is another favorite activity for the girls. I have stocked up on coloring books but alas, the girls prefer clean white paper. They are their father's children…don't like to color in the lines. I guess I have lots of coloring to do. ;)
So these are a few of the girls' favorite things right now. They are growing and learning so fast that I'm sure they will change in a month or so.